TFM / BAU / Barcelona
2019 Aural

( ENG )
See photocopies for Spanish.

Aural is an interactive sound experience that allows participants to "hack" their electromagnetic field.

Through the physical interaction with the light sculpture, participants designs a soundscape which they are able to modify in real-time. Creating a feedback loop of action and reaction between the physical and energetic body, the emitted frequencies provoke a state of deep relaxation. Therefore permitting the participant to design their "Aura".

The initial concept of this project was to be able to visualize a user's aura. We grew interest in the study of alchemy and decided to find a way to transform light into sound.

We started investigating on electromagnetic fields and how brain waves react to certain stimulations, experiencing later a "Gong Bath" guided by Vikrampal - (Vikreative). Fascinated by the idea that sound could alter your state of conscience, we reinterpreted this oriental musical percussion practice through an experimental perspective.



Aural es una experiencia interactive que permite al usuario "hackear"su campo electromagnético.

Mediante la interacción física con una escultura lumínica , el participante diseña su propio paisaje sonoro que puede ser modificado en tiempo real. Creando una retroalimentación de acción y reacción entre el cuerpo físico y su campo electromagnético. Las frecuencias emitidas provocan un estado de relajación profunda, el participante puede diseñar su propio "Aura".

El concepto inicial de este proyecto fue la posibilidad de visualizar el "Aura" de un participante. Nuestro creciente interés en el estudio de la alquimia nos decidió finalmente en encontrar la forma de poder trasmutar la luz en sonido.

Comenzamos investigando los campos electromagnéticos y cómo las ondas cerebrales reaccionan a ciertos estímulos, experimentando más tarde un "Baño de Gong" guiado por Vikrampal - Vikreative: una terapia de percusión musical de origen oriental. Fascinadas con la idea de cómo el sonido podía alterar nuestro estado de conciencia, reinterpretamos esta técnica milenaria con una perspectiva experimental.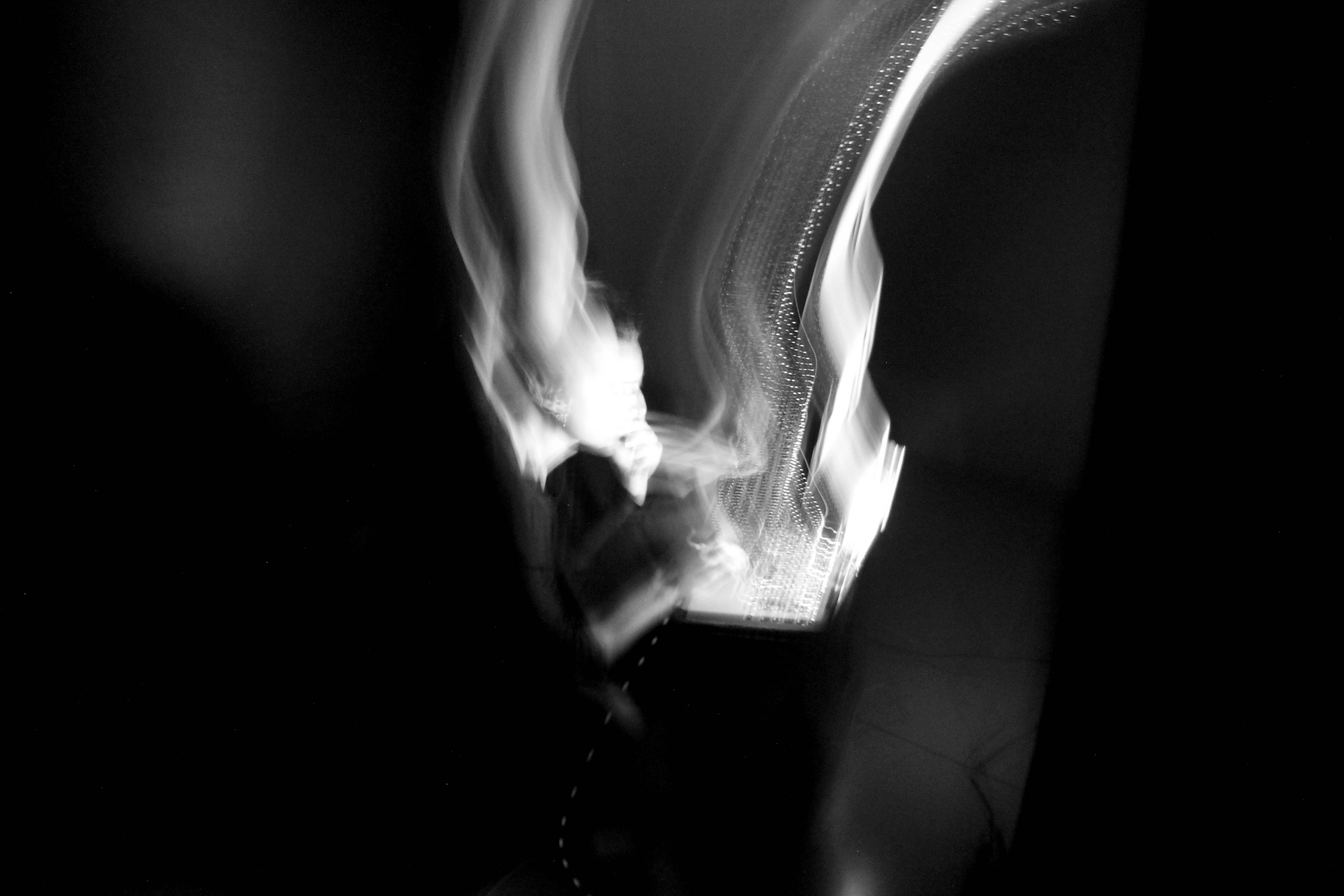 FUENTES:



Devi A., 2017, Aïsha Devi: Of matter and spirit. Entrevista en Resident Advisor.

Entrevistada por Holly Dicker, [Resident Advisor], 12 Abril 2017. [online] Disponible en: <https://www.residentadvisor.net/features/2889> [Consulta 14 de junio 2019]

Shenken E. A., 2015. Inventar el futuro: arte - electricidad - nuevos medios. Brooklyn: Departamento de Ficción. Trad. E. R. García y P. W. Laso. [pdf] Disponible en: <https://inventarelfuturo.wordpress.com/> [Consulta 14 de junio 2019]

Colzato L. S., Steenbergen L., Sellaro R., 2017. The effect of gamma-enhancing binaural beats on the control of feature bindings. US National Library of Medicine- National Institute of Health [pdf] Disponible en: <https://www.ncbi.nlm.nih.gov/pmc/articles/PMC5486945/> [Consulta 14 de junio 2019]

Mimenza O. C., Glándula pineal (o epífisis): funciones y anatomía, Psicología y Mente, Revista de Psicología. Disponible en:<https://psicologiaymente.com/neurociencias/glandula-pineal-epifisis> [consulta 14 de junio 2019]

Carrasco C., 2016. La paradoja del cuidado: necesario pero invisible. Revista de economía crítica. Marzo 2006, p. 39-64, no. 5


LIBRERÍAS DE PROCESSING:


MidiBus: http://www.smallbutdigital.com/projects/themidibus/

OpenCV: https://github.com/atduskgreg/opencv-processing


AGRADECIMIENTOS:

Vikrampal Singh
Juanjo Fernández
Judit Rasseda
Jonathan Daifuku
Mariel Fuentes
Freddy Alvarez
Alex Paredes


TUTORIADO POR:

Anna Carreras
Santiago Vilanova